River-(white?) GSD/Chessie from Animal Allies yesterday, hilarious puppy.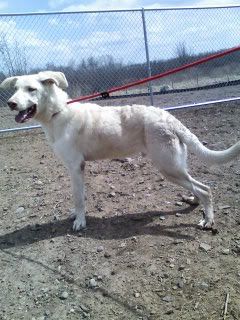 Likely partially blind, has super splayed feet, SO happy though! He's a crazy puppy who is very mouthy with sharp puppy teeth! Very interested in people. When his ears stand up, he is even more adorable!
My Bailey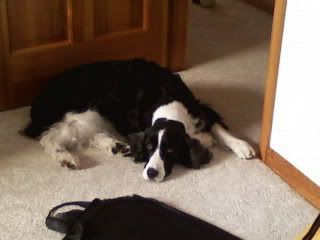 Taken on one of the first days back at the farm, she's wondering what the heck I thought I was doing going back to bed! Can't I see how BORED she is?
Best puppy ad I've seen in a long time!
Yep, they're "extra rare" because daddy is 1/16th Australian Sheppard (I took their spelling of it). Oooh, sign me up please! (For more info, just search for the farm name...)
And this photo is OLD!
Erin's kitty Fuser. Evil kitty who only cuddles with Erin and Steve. He's snarky, but you've gotta appreciate that I suppose.